Regal Raptor DD125E-5H
motorcycle manufactured by Lifeng Group Ltd.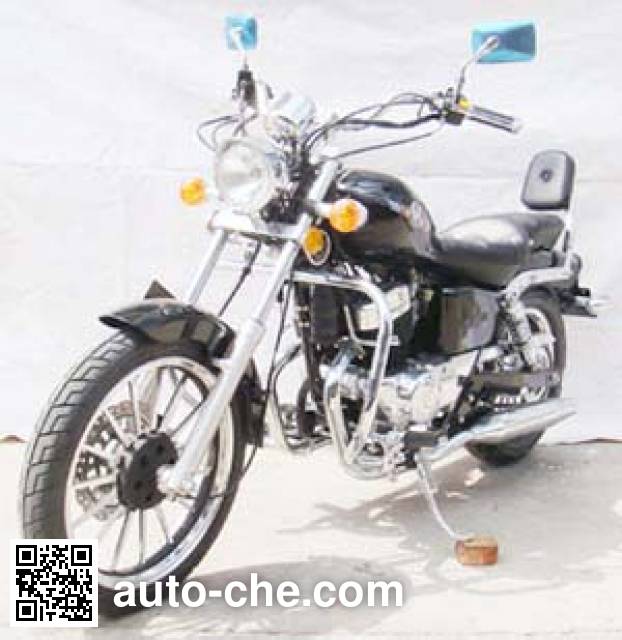 DD125E-5H
Regal Raptor Chinese motorcycle DD125E-5H manufactured by Lifeng Group Ltd. (a manufacturing enterprise in Wenzhou, Zhejiang Province, China; manufactures a range of Regal Raptor, Kaiyilu two-wheeled / three-wheeled vehicles, including motorcycles). Gross vehicle weight is 309 kg, passenger capacity is 2 (incl. driver), max. speed is 92 km/h, gasoline, curb weight is of the Chinese motorcycle 159 kg, tires are front 90/90-18 rear 130/90-15, wheelbase is 1490 mm, engine: DD244FMI-2.
Technical Specifications of the Chinese motorcycle Regal Raptor
Vehicle Overview
Engine of the Chinese motorcycle Regal Raptor DD125E-5H
Engine Specifications of the Chinese motorcycle
Engine Model
DD244FMI-2
Engine displacement (cc)
124
Engine power (kW (hp))
8.0 (11)
Engine manufacturer
Fuel
gasoline
Dimensions and Weights of the Chinese motorcycle Regal Raptor DD125E-5H
Dimensions and Weight Specifications of the Chinese motorcycle
Overall Dimensions of the Chinese motorcycle
Overall length (mm)
2210
Overall width (mm)
900/860
Overall height (mm)
1120/1095
Weights
Curb weight of the Chinese motorcycle (kg)
159
Gross vehicle weight (kg)
309
Seating capacity
Total number of seats
2
Wheel Base
Wheelbase (mm)
1490
Wheels and Tires
Tires and Wheels of the Chinese motorcycle Regal Raptor DD125E-5H
Number of axles
2
Number of tires
2
Tires dimension
front 90/90-18 rear 130/90-15
Misc. Specifications
Miscellaneous Specifications Regal Raptor DD125E-5H (motorcycle)
Max. speed
92
Total number of seats
2
Steering