Regal Raptor DD350E-2A
motorcycle manufactured by Lifeng Group Ltd.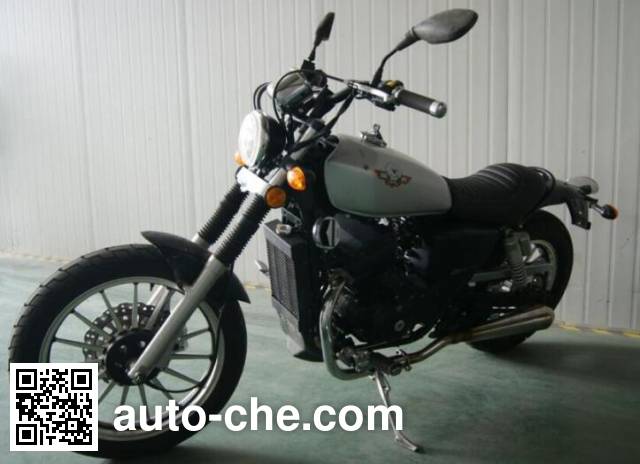 DD350E-2A
Regal Raptor Chinese motorcycle DD350E-2A manufactured by Lifeng Group Ltd. (a manufacturing enterprise in Wenzhou, Zhejiang Province, China; manufactures a range of Kaiyilu, Regal Raptor two-wheeled / three-wheeled vehicles, including motorcycles). Max. speed is 120 km/h, passenger capacity is 2 (incl. driver), wheelbase is 1530 mm, engine: DD262MP-2, gasoline, curb weight is of the Chinese motorcycle 190 kg, gross vehicle weight is 340 kg, tires are front 100/90-18 rear 140/90-15.
Technical Specifications of the Chinese motorcycle Regal Raptor
Vehicle Overview
Engine of the Chinese motorcycle Regal Raptor DD350E-2A
Engine Specifications of the Chinese motorcycle
Engine Model
DD262MP-2
Engine displacement (cc)
326
Engine power (kW (hp))
16.0 (22)
Engine manufacturer
Fuel
gasoline
Dimensions and Weights of the Chinese motorcycle Regal Raptor DD350E-2A
Dimensions and Weight Specifications of the Chinese motorcycle
Overall Dimensions of the Chinese motorcycle
Overall length (mm)
2200
Overall width (mm)
810
Overall height (mm)
1120
Weights
Curb weight of the Chinese motorcycle (kg)
190
Gross vehicle weight (kg)
340
Seating capacity
Total number of seats
2
Wheel Base
Wheelbase (mm)
1530
Wheels and Tires
Tires and Wheels of the Chinese motorcycle Regal Raptor DD350E-2A
Number of axles
2
Number of tires
2
Tires dimension
front 100/90-18 rear 140/90-15
Misc. Specifications
Miscellaneous Specifications Regal Raptor DD350E-2A (motorcycle)
Max. speed
120
Total number of seats
2
Steering